Keep the children entertained this Fall is on the way by making Apple Pancakes with them. These are really quick and easy to put together! Remember when using kitchen utensils children should be supervised. Why not have them take it to school with their lunch, or you can share some in your next Cluster meeting.
*****************************************************************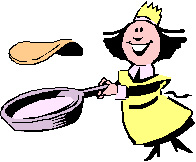 Apple Pancakes

Preparation Time: 5 minutes
Ready In: 5 minutes
Ingredients
2 cups pancake mix
1 cup water
1 cup chunky applesauce
half a teaspoon of cinnamon
Preparation
Preheat griddle or skillet to 365 degrees. Combine pancake mix, water, applesauce and cinnamon. Stir just until large lumps are gone. Lightly brush griddle or skillet with vegetable oil.
Directions
Pour approximately a quarter of the batter on to the griddle or skillet for each pancake. Cook about 1 minute, until top edges bubble and bubbles break. Turn and cook about 1 minute longer, or until browned. The batter should make a dozen pancakes, depending on thickness.