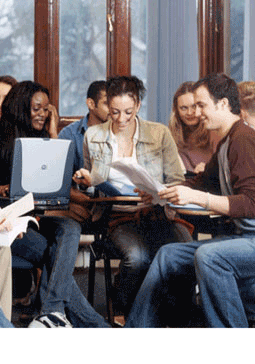 An ambassador promotes the program in a local college.
An ambassador is a representative; a person who promotes interest in a program and encourages its rise in popularity - that's exactly what you are doing for Au Pair in America! By meeting new people and telling them about the program you are helping to maintain our success and are also giving young women the opportunity of a lifetime.
Your main role as an Ambassador is to:
Recruit au pairs for the Au Pair in America Program.

Be a walking, talking advertisement for Au Pair in America.

Be available to assist your local agency with promotions including school presentations, information meetings, career exhibitions, distributing posters and contributing to newspaper articles - you could even appear on TV or radio interviews!
These activities are vital and a great way of getting the message across and speaking about your experience to potential applicants. For each girl who you speak to that applies you will receive US$50.
It is entirely up to you how much time you want to invest in promoting the program. This means that you can do things your way and organise your own schedule. We know that a lot of you are busy at work or study, but it's important to remember that the more people you recruit, the more money you earn. You should also remember that you are not responsible for interviewing the applicants. This is the job of your local interviewer or agency.
Click here to access your local interviewer's details...don't forget to select your country from the drop down menu though