We know how much you enjoyed the last issue's Christmas cookie recipe, so here's another way to keep the children busy over the Easter period. These are really quick and easy to put together. Remember to keep young ones safe when the oven is on and when using any utensils that may be dangerous. Why not make some for your next cluster meeting, or have the children share some with their school friends?
*********************************************************************************************************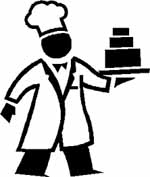 Bunny Biscuits
Ingrediants
2 cups butter
1 1/2 cups white sugar
4 egg yolks
1/2 cup milk
8 cups sifted all-purpose flour
2 teaspoons baking powder
1 tablespoon orange zest
1 egg
Directions
Work with the hands until dough is smooth. Add grated orange rind. Dough should be stiff so add additional flour if needed.

Break off small portions of dough and roll out into pencil-size strips about 11 inches long. Fold each strip into thirds, sideways, and press lightly together at ends.

Place cookies on ungreased baking sheet. Brush tops with beaten egg.

Bake

at 350 degrees F (175 degrees C) for 18 to 20 minutes.
Thanks go to http://allrecipes.com for supplying this recipe.