Keep up to date with all our program information! To download our Au Pair in America presentation, click on the link below and Save. It is a large file so please be patient while it downloads!
Download Au Pair in America's PowerPoint presentation 2009!
Presentations: A Guide to What to Say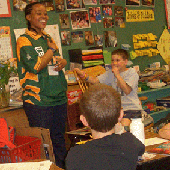 The Structure Your Presentation Should Take
First things first, hand out your Ambassador business cards as the girls are entering the room (so that if they decide to join, they have your name written down and can later state it on their application when asked which Ambassador referred them).
When everyone is seated, begin the presentation, which includes a few stories of your experience as an au pair.
Briefly explain the application process and provide them with details of their local Au Pair in America agency.
Ask them if they have any more questions and try and answer them to the best of your ability.
Finish the presentation by sharing an interesting au pair story with them.

The Script (always useful to have in your handbag!)
"Hello, and welcome! My name is…………………… and I was an au pair in America during ……………….. and lived with my host family in…………….. I looked after… children (here you can give a little more information specific to your host family and the children).
The reason why I'm here today is to give you more information into the Au Pair in America Program, the application process and benefits of spending a year in America and to share a bit of my wonderful experience with you all.
Au Pair in America was established in 1986 making it one of the first Au Pair programs in the US. It is a division of the American Institute of Foreign Study, which was founded in 1964. That means the Institute has over 40 years of experience in sending young people to work, study and travel in the US. Au Pair in America is a year long cultural exchange program where you are given the opportunity to live as part of an American Host Family while providing them with a maximum of 45 hours of childcare per week.
All of you here today have different reasons for considering spending a year or two as an au pair in America. Maybe you've just finished high school or college and are thinking about taking a Gap Year. Perhaps you feel it is time for a change of career, or you simply have the desire to work abroad with children. Whatever your reason, you will find that Au Pair in America is an ideal and rewarding way for you to spend a year or two of your life.
Applicant Qualifications
Here are the basic requirements of the program: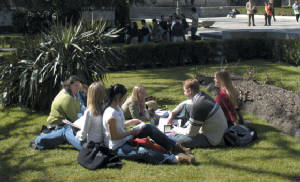 A typical way that you can promote the program
What Au Pair in America Provide
As an Au Pair in America participant you'll receive many benefits, including a weekly payment of US$176.85 on the regular Au Pair program and US$250 on Au Pair Extraordinaire. It's important that you are regarded as a member of the family and an equal (which is what the word au pair means!). Your host family will by paying for your food and board so your weekly pocket money is purely for your social activities, shopping, travelling or saving if you can!
Au Pair in America makes sure that all au pairs are well prepared for their year ahead. You will spend your first 4 days in America in Stamford, Connecticut (an hour outside New York City) to take part in the Orientation Training Course. Once you arrive in NYC with many other au pairs, you will be transported to your hotel, where you will stay for the next 4 days. This as an opportunity for you to take some time adjusting to the American way of life, get over some of the culture shock you may be experiencing and be with other au pairs who are all in the same position as yourself.
During your year you will have the support of your Community Counselor, and will be placed in an area where there are at least 5 other au pairs so that you can make friends and get involved socially. This group is called a cluster. Each cluster has a Community Counselor who will look after you and make sure that both you and the host family are having a good year together. The Counselor will live no more than 1 hour's drive from your host family and will arrange social and cultural 'cluster meetings' every month for you and all the other au pairs in the area.
The program requires that you study at a local American college for 3 hours a week during the American term time. Your Host Family will pay US$500 toward the cost of the course and you will find a wide selection of subjects and courses to choose from. Your host family and your Community counsellor will be able to help in the decision of where and what to study. With Au Pair in America you can be safe in knowing that you are working legally on a J-1 visa. Plus you can now extend your visa by a further 6, 9 or 12 months.
You are also entitled to 2 weeks' paid vacation. You may decide to take this time to travel, perhaps with other au pair friends. This would need to be arranged with your host family so they can arrange alternative childcare. You will find that many host families do a lot of traveling, particularly visiting relatives in different parts of the States, and it is likely that they will invite their au pair to go along with them. The host family need their au pair to work part of the time while away with them and the au pair will not lose any of her vacation allowance.
The visa allows you to take an extra month in the United States to travel after you've finished the program. You may decide to rent a car and go on a road trip or maybe join one of the Trek America tours – the choice is yours!
Au Pair in America's Commitment to you...
As an au pair in an American host family you will be required to work for a maximum of 45 hours a week. Each family will have their own schedule therefore it is difficult to describe a typical day. Most au pairs work from Monday to Friday, starting at 8am and finishing between 5:00 – 5:30pm. The rest of the time is yours to go out with friends or relax at home. Your working hours would naturally depend on the ages of the children, for example if you are looking after school aged children then you will have free time during the day and might have to work a bit later in the evening to help with homework or after school activities. You are entitled to a minimum of 1-½ days off every week and one weekend off every month.
The focus of this exchange is very much that you go to America as a visitor, yet are accepted as a member of the family. Your duties could include taking the children to school and social activities, preparing meals for them during the day, keeping them busy with activities that teach and entertain, doing their laundry and tidying their rooms. Generally you would ensure the house is tidy for when the parents arrive home. You are NOT a servant or maid to the family and will not be expected to run the whole household. However as a family member you should be prepared to help out with some of the chores, like loading the dishwasher or helping get the table ready for dinner - things you would probably do now with your own family. This is where flexibility is important.
To help you adjust to your new environment you will receive a detailed information sheet about your Host Family and the community they live in. During the matching process several American families are likely to call and also email you. This is an opportunity to find out more about the family, what the children's special interests are, what schedule they expect you to follow etc. You should have your questions ready for when these families call you. It is through these telephone calls that you decide which family you'd like to be matched with and likewise the family decide if they would like you to be their au pair. This means that you do have a say in which family you will be placed with. Generally we advise you to accept the first family that you feel comfortable with.
Your host family will also be there to offer you support. One of the parents or a responsible adult will stay home with you for the first 3 days after your arrival to show you around and to familiarise you with the household, surroundings and neighbourhood.
Your Community Counselor will contact you within 48 hours of your arrival to ensure that there are no initial problems and will meet with you and your host family within the first 2 weeks. She will then have monthly contact with both you and your host parents. If for some reason there is a problem with your family then this is when the Community Counselor can step in. It is important for her to find out the cause of the problem and then try and resolve the situation – often it is just a case of everyone sitting down and talking together. If you really feel unhappy with the family then Au Pair in America can arrange for a rematch.
Applying to be an au pair in America is a big commitment and something that should be taken seriously. If you go to the States with a positive attitude and if you are flexible, you will have a wonderful year. You will get the most out of your year by getting involved with all activities, whether it's childcare, socialising or studying.
The Application Process
The next step is how to apply to the program. After receiving a copy of the brochure you will need to read through it carefully – the brochure explains everything you need to know about the program. You have two choices on how to apply. You can either complete your application online or you can complete a paper application. The Application Form covers your personal details, sports and interests and your childcare experience. To register online visit http://online.aupairamerica.co.uk/isis (you can also request on the Registration form for a paper applicaiton to be sent to you) or you can download an application form from the How To Apply page on www.aupairamerica.co.uk.
You will need to provide some additional items to go with your form. Firstly you need to include a passport photo of yourself, preferably smiling! You need to supply a total of 6 photos showing you with the children you have cared for, and you with your family and friends in the places you live or frequently visit. Next to each picture you should write an explanation of who is in the picture and what is happening.
You must also write a letter to introduce yourself to your host family (500 words). You should write about your reasons for wanting to be an au pair in the USA, the childcare experience you have, what activities you enjoy and also talk about your family and friends. Give as much information as possible so that the host family gain a real sense of your personality and the kind of person you are. Your letter is one of the most important parts of your application so take time to make it a really great one!
A minimum of 3 references are required which includes 2 childcare and 1 character reference. None of them should be from relatives. Obviously the more experience you have in the childcare field and the more references you can supply, the better your application will be.
You must also include copies of recent certificates to show you have completed secondary school, include a copy of your full driving license and proof that you have no criminal record.
Once you have all these papers together you are then ready for an interview with your local interviewer or agency. You should take your completed application to the interview. The interview generally takes about 2 ½ hours, which includes a personality questionnaire to provide Au Pair in America with more information about your personality. This will also be an opportunity during which you can ask questions.
And Finally...The Closing Statement!
Before closing your presentation it's always a good idea to ask your audience if they have any questions. That way you can give them all the information they need if they feel that you've left something out. You can add your own twist to how you would like to organise this session.
You can then finish with these words:
Thank you all for coming today and for your interest in the Au Pair in America programme. I hope that I have managed to help in your decision to become an Au Pair in America and join the thousands of young people (including me) who have described this as the 'most rewarding year or the best year of their lives"